You are here
Myth – With a raw diet you know exactly what you're feeding your dog.
You don't know what you are feeding your dog unless you have raised the livestock yourself in your 'organic' backyard along with your 'fruit and vegetables in your 'organic' orchard.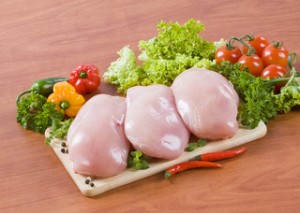 I would bet the meat from your butcher and fruit and vegetables from your grocer have been sprayed, injected or at some stage absorbed chemicals or hormones or both. So don't kid yourself. Instead, save yourself the inconvenience of all the prep work that comes with a raw diet. Buy a premium commercial dog food.
Feeding a 'Raw' diet to your K9 is time consuming and for that reason alone I would not really consider getting involved with this diet again. It is complicated and the extra effort required to prepare the food comes at the expense of doing other things that your dog will benefit from. Food preparation is not a priority but food nutrition is – do not mistake the two. Don't think for a second because you slave in the kitchen that your meal is going to be any healthier than the one you can buy and prepare in seconds bought from a store and made from a premium commercial dog food manufacturer.
I fed my dogs a raw diet for over a year and found it to be a totally impractical exercise with no comparable benefits.
Premium commercial dog food has had millions of dollars invested in its research and development and many brands are endorsed by reputable organizations like the Veterinarian Association. You really can't go wrong with these endorsed brands and they are well worth your consideration once you understand that the value far exceeds the cost.
In Summary – Which brand is best? The one your dog likes. What brand do I use? That's not important. Just buy the best you can afford and don't waste your time preparing raw meals.
Categories

Calendar

July 2022
M
T
W
T
F
S
S
« Nov
1
2
3
4
5
6
7
8
9
10
11
12
13
14
15
16
17
18
19
20
21
22
23
24
25
26
27
28
29
30
31